Bark Carving Introduction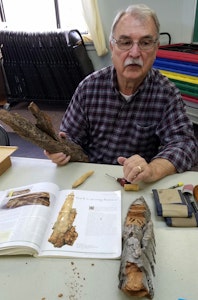 Bark carving is great for beginners & experienced carvers. Its easy wood to carve. "Whimsies Houses" are easy to make and great fun in letting your creative imagination shine through. First you must choose a piece of Cottonwood Bark wood that "Speaks" to you. For example: can you see; a stairway, a chimney, unique windows or perhaps a roof. No two pieces of wood are ever alike. To begin carving, always start at the top and work down. When you get to the bottom, you can make the base look like rocks, bricks or whatever would finish it off. You can always ask for suggestions form the many talented Cottonwood Bark carvers within the Palm Coast Woodcarving club. All are knowledgeable and willing to share ideas. The best book i found on Bark Carving is "Carving Tree Bark" by Rick Jensen and Jack H Williams.
Basic Bark Carving tools & tips:
Knife
Flat gouge
Exacto Knife with #11 Blade
Remember to keep your tools "Sharp"
Thank you for reading "Bark Carving Introduction".
Have a great day! ...Bob