Bird Wood Carving Intro
by David Hertle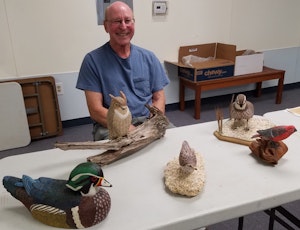 Member David Hertle, of the Palm Coast Wood Carving Club, taught a class on carving birds at the club meeting on April 25, 2017. He displayed several types of birds he's carved and talked about the process of carving and painting birds. David provided a detailed handout on the presentation points covered and an additional handout identifying the structural parts of a bird.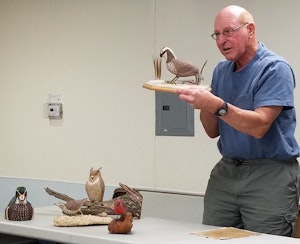 Carving Birds

Use soft bass wood (not an old hard piece)
Select a bird pattern from a bird book or online
Copy the pattern onto a piece of plastic, both top and side views
Trace pattern onto bass wood (top and side) using a stylus and carbon paper
Use band saw to rough out the bird shape on the bass wood
Use carving tools to shape and round the bird and layer the feather groupings as per pattern
Use pattern to draw the detail feathers onto the shaped bird
Wood burn the outline of the feathers
Carve the feathers in overlaying pattern (like shingles)
Wood burn the feather details from the center of each feather in a fan out fashion
Lightly sand to smooth all around the bird
Insert the glass eyes and legs indicated on the bird pattern. These can be purchased on line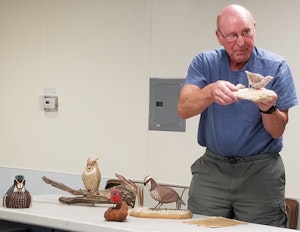 Painting the Bird

Print color pictures of bird from internet and or use colored pattern of bird
Seal the bird with a clear sealer and buff out raised grain on bird
Use acrylic paints ( Hobby Lobby has a large selection)
Apply diluted base colors in sections as indicated
Overlay diluted colors in layers, use dry brush technique (wipe off excess with paper towel)
Paint the feather tips (usually off white)
Seal bird with a satin finish
Select the base to mount the bird and drill holes for legs to be inserted and glued in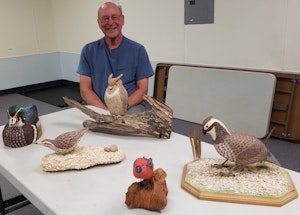 Thanks for reading. Have a great day!
Best regards,
Dave Hertle