How to Paint Eyes - by Joanne Waibel
- Hi, I'm Joanne Waibel, a member of the Palm Coast Woodcarvers. This is an introduction with helpful tips on painting eyes.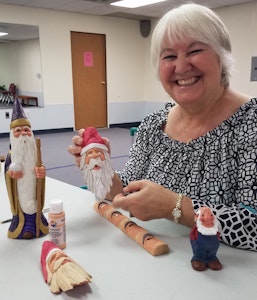 There are many ways to paint eyes. The following is the method I've found to be the easiest.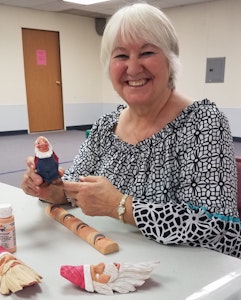 My first step is to paint the face. After painting the face, I paint the eyeball white. Next I draw the outline of the iris using either black or iron oxide. The next step is to paint the eye color using a choice of brown, blue or green.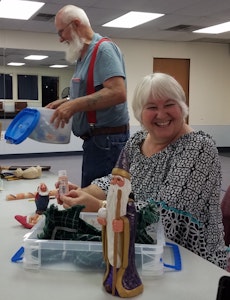 Upon carefully painting the eye color, then comes dotting the center of the eye with black paint. Dotting the eye is accomplished with either a toothpick or the pointy back end of a paint brush. White highlights are added for a final touch.

Finally, I carefully go back and retouch any overlaps. For a finish, I cover the eyeball with a coat of clear nail polish.
Thanks for reading, "How to Paint Eyes"
~ Joanne ~