Palm Coast Woodcarvers Founder (President Bud Tanis) hands-off the Baton after 25 Years of Achievements ...by Bud Tanis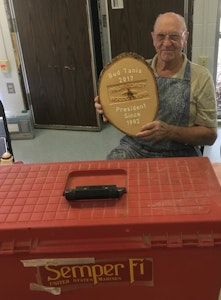 After retiring in 1990 and moving to Palm Coast, I decided to pursue a hobby. I enrolled in a woodcarving class at the Palm Coast Adult School. After my teacher retired, I decided to start a carving class. With the help of a friend and the City of Palm Coast, I was able to start a class at the Daytona State College. We were called, The College Carvers. From there, we moved to Holland Park and stayed there until the present location at the Palm Coast Community Center. From a small group of 6, the club now has a membership of 40, comprised of both men & women and growing, while meeting every Tuesday. We are now called "The Palm Coast Woodcarvers".
Our club has proudly taken on projects such as: carving "eagle head canes" for the disabled veterans, Palm Coast Library Christmas display of carved Santa's, a carving show at the Community Center of Palm Coast and a "911 Memorial Carving" donated to the Palm Coast Library. Our club carvers have traveled to many other carving groups in the area, making many carving friends along the way.
After 25 years of presidency, on my 86th birthday celebration, I announced that I would be retiring and passing my duties to a new president, Howard Hawrey. This man has been a valuable asset to me during the years and has taken much of his time to schedule special classes. The Palm Coast Woodcarver club is such an asset to the City of Palm Coast. I'm happy to say that I have been a part of giving back to our community. With Howard as President, I am sure he will continue to carry on the wonderful craft of woodcarving, and with my help, this fabulous carving club will continue to grow, providing a great hobby for anyone interested in this amazing craft.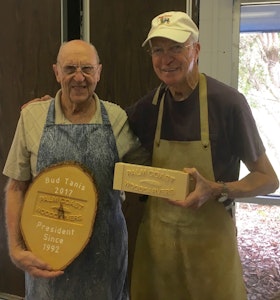 Thanks for reading & have a great day! ...Bud
(plaques designed & carved by woodcarver: Jeff Kingdon)